What a great 3 days of plein air painting this weekend at the 4th Annual Invitational Coastal Paint Out in Port Aransas on the Texas Gulf Coast. 16 Artists participated in this invitational event hosted by Port A Gallery . The event also benefited the Port Aransas Museum's Farley Boat Works Project. In addition to the paint out this weekend was the 5th Annual Art Walk; 15 galleries, studios & design businesses opened their doors & served refreshments to hundreds of art lovers.
I arrived in Port Aransas fresh off the ferry (love that little trip across the channel) on Thursday afternoon about 3pm and drove straight to a little chapel on a hill that I remembered from my trip there last November. The best light, of course, is early morning and late afternoon into the evening...so my arrival time was planned perfect. Another artist was just packing up to leave so within a few moments I had the location all to myself.
Friday, artists painted throughout Port Aransas - on the beaches, along piers & jettys. On Saturday morning, from 9:30 to 11:30, we set up our easels along Alister street for a Quick Draw - a friendly competition between artists to "capture the light" in only 2 hours! Afterward, each artist submitted a Quick Draw painting plus 2 additional paintings to Port A Gallery. Owners of Port A Gallery, Rick & Cameron Pratt, hosted a reception, show and sale from 4pm to 8pm on Saturday evening. And WOW... in those 4 hours, the gallery was shoulder-to-shoulder with guests, buyers, & artists....this was a happenin' place!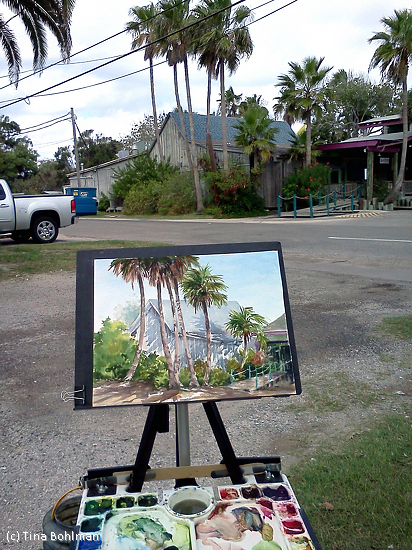 I took a moment to snap this photo with my phone camera during the Quick Draw....waiting for the sun to pop back out so I could finish painting the shadows - in this shot it was almost done; just needed a few more strokes & my signature! By the way, if you're interested in my "all in one" easel & palette, this is Eric Michaels' En Plein Air Pro - check it out the website - best ever easel on the market for watercolorists!
"Pelican's Landing" - 11x14 watercolor
Available through Port A Gallery
By the way, this painting won the coveted People's Choice award at the Reception! And....congratulations to my good friend & fellow OPS painter, Rusty Jones for winning the equally coveted Artist's Choice Award.